Laboratory of Hydrology
The hydrogeology laboratory owns a reasonably complete instrumentation for the hydraulic characterization of the terrain. Particularly suited for studies in the Non Saturated Zone.
Besides classical instrumentation typical of a laboratory, the following ítems deserve special mention:
– Richards Pressure Plates to determine the retention curve for a given material. Very important in contaminant transport studies.
—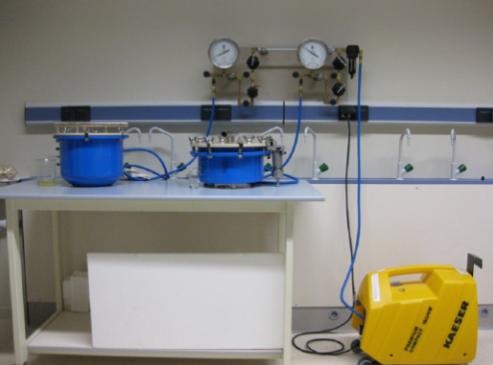 aa
– Lixiviation Column: For permeability determination in both saturated and unsaturated terrains. Also, both in altered or non-altered samples. Very useful for applications in contaminant transport or recharge. The systems owns an flow injection system based on syringes and columns of different lengths along which the water flows. A vacuum chamber allows working with negative pressures. A fraction collector collects lixiviates in small volumes that can be analyzed individually. The saturation degree along the column can be monitored using tensiometers.
aa
aa
– Permeameters. Allows measurements of the permeability of materials. Both variable load and constant load. They can make up to ten measurements simultaneously.
– Oven.
– Stove.