Ramón Díaz Noriega
Engineering graduate o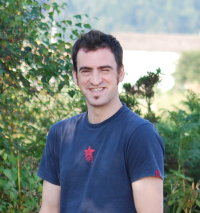 f Mineral Resources and Energy by the University of Oviedo in 2012.
He belongs to Hidrogeophysic and Non-Destructive Testing Modelling Unit, of the University of Oviedo since 2009. From  when he obtained the title of Mines Engineer specializing in mining prospecting, in the Polytechnic School of Mieres (Asturias-Spain).
Since 2009 his research is in hydrogeology and geophysics, specialist in applied groundwater modeling, using FEFLOW code, a  numerical simulation tool of flow and transport in porous media. In year 2012, he became a member of the World Council of users (MIKE by DHI User Council) invited by DHI.
Passionate about geology, hobbies often reconcile professional and personal life through the practice of photography. Enjoy nature and animals in Asturias where he was born, raised and currently maintains his residence.